An exceptional African experience
So much more than a safari
A holiday you will be back for
NG 49 COMMUNITY HUNTING AREA
NG49 Bordering the Nxai and Makgadikgadi National Parks and the Boteti river with some magnificent elephant trophies available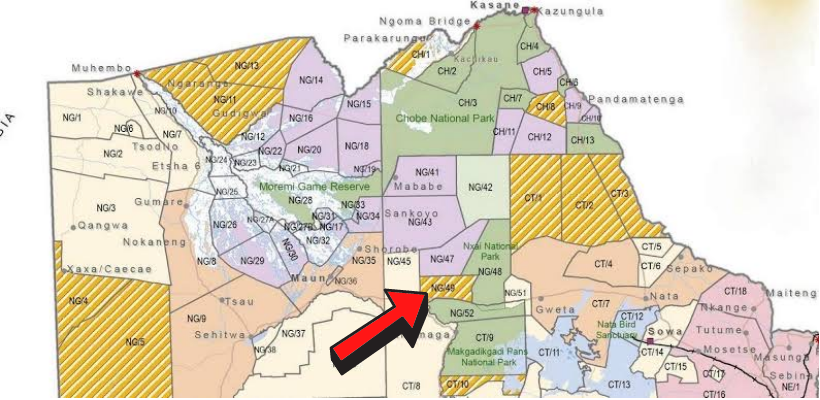 Description of the hunting area
Our hunting area is NG49. It is 120km South East from Maun airport. A comfortable one and half hour drive to camp. The area is part of the Phuduhudu community, with whom we have a close relationship. They benefit directly from the hunting. The bulk of the revenue and meat obtained through hunting goes to them. It will also contribute to projects uplifting their lives and empowering the community.
In the East we border the Nxai Pan National Park and in the South the Makgadigadi National Park with one corner bordering the Boteti River. This is unspoilt nature at its finest with no human movement in the area. There is an abundance of good quality elephant trophies, 50 pounds and bigger and a great number of plains game with the annual zebra migration taking place through the concession area. The terrain is perfectly suited for any client with open plains and no rocky terrain
Accommodation during your safari
We make use of Leopard Plains Lodge.
In Eastern Okavango Delta better known as the Panhandle lies NG 11. It is at the Eastern side of the Okavango Panhandle, where the Okovango river reaches the Okavango Delta. The Namibian border marked the northern boundary and the Okavango River marked the western boundary. NG 11 consists of 5280 square km which is approximately 523000 hectares (1.1 million acres) of prime free range hunting.
Description of the hunting area
The Okavango System is one of Botswana's most important natural assets for a healthy and sustainable Elephant population.
Deep Kalahari sand dominates throughout NG 11, main vegetation types include shrub land towards dune crests with Burkea (Burkea Africana) and shrubbed woodland with mixed Mopane (colophospermum mopane)
An estimated population of 18 000 Elephants were located in NG 11, throughout the year 2010 with an estimated growth of 3% annually. 371 bull herds were allocated in NG 11 and 1250 family heards.
NG 11 has never been hunted before 2021. In 2021, 12 Elephant bulls were hunted with an outstanding high trophy quality.
When hunting with Sabudawn safaris in NG 11 you will be accommodated in a bush camp that plants you right in the middle of the Okavango wilderness - a temporary guest in the home of the wild life. The chalets and tents have twin beds, an ensuite bathroom consisting of a basin, toilet and shower. Each chalet has electical power point, adequate lighting as well as a private verandah overlooking the floodplain and water channel.
Accommodation during your safari
Summer in Botswana is from November to March. There is always a possibility of rain in the summer, especially in December, January and February. It can get cold when it rains. The summer temperatures during the day vary from 30C°/86F° to 38C°/100.4F° sometimes higher and at night the temperature is usually approximately 18C°/64.4F° to 20C°/68F° in summer. Spring is from September to October. The day time temperatures are much the same as summer.
However the evenings can range from approximately 14C°/57.2F° to 18C°/64.4F°. The fall/winter months are May, June, July and August. The temperatures are warm in the day usually ranging from 20C°/68F° to 25C°/77F° and cold at night sometimes dropping below freezing. The dry season is generally March to October.
You will be hunting with Lucas Groenewald and Randy Motsumi. Between us, we have over 30 years of experience in the hunting and hospitality industry. We use well-equipped hunting vehicles with everything you need for the day, equipped with fridges, all drinks, snacks etc. We have excellent trackers and will field prepare your trophy to your needs. The days hunting will typically start after an early breakfast, with a field lunch in the bush. We will return to the lodge in the evening for a great meal and well-deserved drinks and relax around the campfire.
Our price do consist of a sliding scale and we guarantee our greatest effort to getting you the biggest trophy in the area. Mochaba taxidermy in Maun, will collect your trophy immediately after the hunt and make sure it is in pristine condition. Hunting season in Botswana for Area NG49 is from 5 April 2022 to 12 September 2022 and NG11 5 April 2022 to 31 December 2022. Recommended time to hunt April to end of June for elephant and Leopards from July to September.
Your arrival city will be Maun in the Northern part of Botswana. Generally the easiest way is to fly thru Johannesburg, but alternatively, arriving to Windhoek (Namibia) could be an option too. Most likely airlines to use these routes would be SAA, KLM, Qatar, Emirates and Air Botswana.
You will be met by Sabudawn safaris team upon arrival in Maun airport. We will then accompany you to the lodge.
Visas are currently not required for Citizens from the USA, Spain, Italy, UK, Australia and Mexico. Please contact us for more details.
Botswana is generally perceived to be one of the safest places in Africa to travel. Malaria is considered low risk in both NG 49 & NG 11 and malaria is considered being more prevalent in the northern regions in the Delta.
Maximum of 3 rifles per hunter and 50 rounds per calibre